---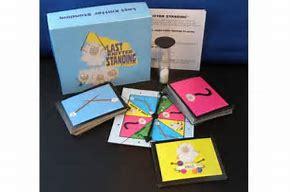 Last Knitter Standing Game
---
Last Knitter Standing is a game with trivia and challenge cards in order to find the best knitter.
Game includes a spinner to select which type of cards to draw, a sand timer, and four different types of cards. Players must supply their own needles and yarn which serves as each player's scoreboard, as well as being used for certain types of challenges.
The player will spin the spinner, and one of the opponents will read the card of the type indicated. Trivia questions will have the player knit rows for correct answers, and rip out stitched rows (frogging, for knitters out there) for wrong answers. Some cards require challenges to add rows, such as knitting with eyes closed. Other cards involve words, such as scrambled words, or listing knitting terms, where the amount answered adds rows. Lastly, there are cards that mess with the other players, such as having to swap knitting with another player (remember that the knitting is the scoreboard), or to force another player to remove rows.
The player with the most knitted rows at the end of the game wins.  Will you be the Last Knitter Standing!?!?